Razor Clams: Buried Treasure of the Pacific Northwest
In this lively celebration of the Pacific razor clam, Berger shares his love affair with the elegant, gold-colored Siliqua patula and gets into the pleasure of how to capture, clean and cook the wily creatures. There's nothing quite as rewarding or fun as digging for razor clams on a flat, sandy beach in front of the wild Pacific Ocean. In the course of his investigations, Berger brings to light the long history of razor clamming as a subsistence, commercial and family recreational activity, and shows how the pursuit of the razor clam has helped shape Northwest identity and relationship to nature. Chapters include how authorities count the clams and the elusive meaning of the term "clam gun."
"The author provides information I didn't know and I've been digging razor clams for fifty years" ― Greg Johnston, Author of Washington's Pacific Coast: A Guide To Hiking, Camping, Fishing and Other Adventures
A delightful new book. . . written with verve, humor and well-researched fact. . . The book should become a go-to reference for razor clam enthusiasts, expert or casual. . . . You need to read this book.
Whether you grab fresh razor clams at the fish counter or with a quick shovel at low tide, this book will take you delightfully, deliciously deep into the food culture, ecology, and local history of our 'buried treasures.
Whether it is a recipe for razor clam fritters you seek or refreshment for the soul, Razor Clams delivers. A must read for Pacific Northwest newcomers and barnacled long timers alike, Berger offers delight on every page.
Sport clamming may sound like an oxymoron until you read David Berger's captivating account of this weird and wonderful activity.
Related Topics for the Clam Enthusiast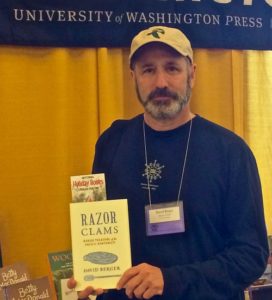 Use the form on the contact page to ask me about speaking for your group. I also present on the Silk Road, past and present, including the cave temples of Dunhuang.
Speaking Schedule
Speaking Schedule 2022
November
10:30am – noon, on Saturday November 12th, by Zoom and in person, at Redmond Historical Society. "The Razor's Edge: The Washington Razor Clam Phenomenon." Click here for more info and to register.